The variously-named Balronald/Ladieswells/Blue Cairn (not to be confused with several other Blue Cairns - why blue?) At the foot of Morven is one of the remotest stone circles in Aberdeenshire. This is where the edge of Cromar, a picturesque land full of ancient settlements around small lochs, tracks and cairns, meets the bare hills of the Grampians. The nearest bus routes are to Tarland or Ordie, but it's best to go by car, through Logie Coldstone on the A97 Dinnet/Strathdon road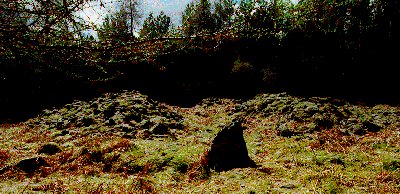 One mile north of Logie Coldstone turn left at Loanhead farm (opposite the kirkyard with its tiny Mediaeval cross-stone). Follow the straight track W for a mile, turn right at Kinaldie Cottage, heading for Ladieswells Cottage in another ½ a mile, the dark pines and heather on Morven looming ahead of you. A steep forest track winds 300 m up to the stone circle secretively sheltered among larches, behind a wooden fence to the left.
This is a recumbent stone circle with a difference. There is a cairn, huge but collapsed with a rough circle of stones around the edge. The massive recumbent stone (no flankers survive) sits on top of the cairn boulders. Has it been moved, or was it the cairn older than the circle?