The stones of Insch are centred around Dunnideer hill which is topped by an Iron Age fort and one of the oldest ruined castles in Scotland. Its twin, the Hill of Christ's Kirk boasts another, unfinished fort.
There are few buses to Insch but plenty of trains, or drive 11 miles from Inverurie on the B9002. Of all the circles around here only the recumbent stone and flanking stones remain standing. All can be visited on foot in a day. Most can be seen on a clear day from Dunnideer Hill. Some are in agricultural fields so please ask permission at all the farms before going up to the stones. Take care parking on these narrow roads.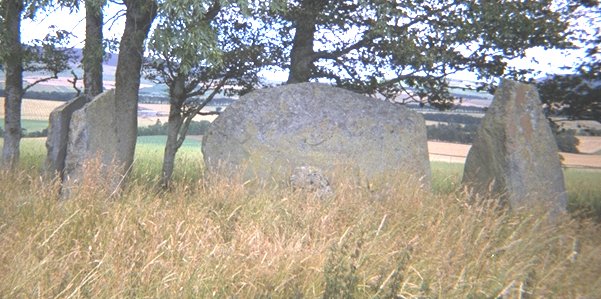 To see Dunnideer stones, take the road going W out of Insch past the manse for about two miles. Walk up the shelter belt of trees on the left for about 300 m. The recumbent stone and two flankers are to the left at the edge of a wooded area of ash and pines surrounded by cairns overgrown with elders. For keen walkers go up over the Dunnideer hill fort path to the east from the car park. Take care as the hill is inhabited by rabbits and the ramparts riddled with rabbit holes. You'll see from the top where the stones stand a couple of fields to the W. A mile to the W. at the edge of a field to the left of a minor road forking left, are the tall, leaning flankers and recumbent stone at Stonehead. No traces remain here of any other circle stones.