To reach Old Keig, take the A944 Aberdeen/Alford road to Whitehouse. This is the nearest the buses come so unless you want a long walk, its best to go by car. Go about four miles north up the Whitehouse/Insch B992 road, crossing the River Don at Castle Forbes, heading for the Keig crossroads. Go straight across; onto the narrow road curving round to the left (W). You might be able to see the stones from here, they are big enough to be seen from a long way off. In a mile you come to Old Keig farm.
Ask permission here to go up to the circle. You can park at a small disused quarry up past the farm (overlooked by the Barmkyn of Keig hill fort). Walk down through a stony strip of trees between fields, usually inhabited by cows and calves. Although damaged and incomplete, this stone circle has a grandeur to it perhaps to it having the biggest recumbent stone of all, weighing an estimated 53 tons, defying any explanation as to how it was got there; thought to have been brought uphill from the river valley below.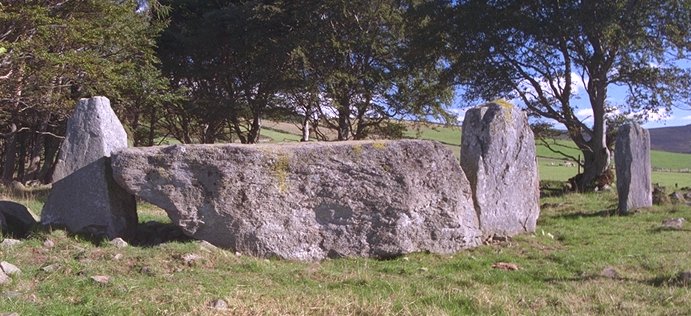 This is tranquil place especially in summer, with a vista over the Howe of Alford, the surrounding fields colourful with wild flowers in July. The circle has been dug into over the centuries, first in 1692 when ashes were found in the now vanished central cairn. Only three stones remain standing, the rest fallen and crossed by walls on either side. First properly excavated in the 1930's, two scrapers, beaker, flat rimmed ware sherds, and a fragment of shale bracelet have been found. More sherds and pieces of bone were found near the centre of a later central cairn.